Brooklyn Youth Chorus celebrated its 25th Anniversary during their 2017-18 season. To celebrate all the stories that have come in and out of the organization over its 25-year history, I was commissioned to create a mini documentary compilation on four special stories.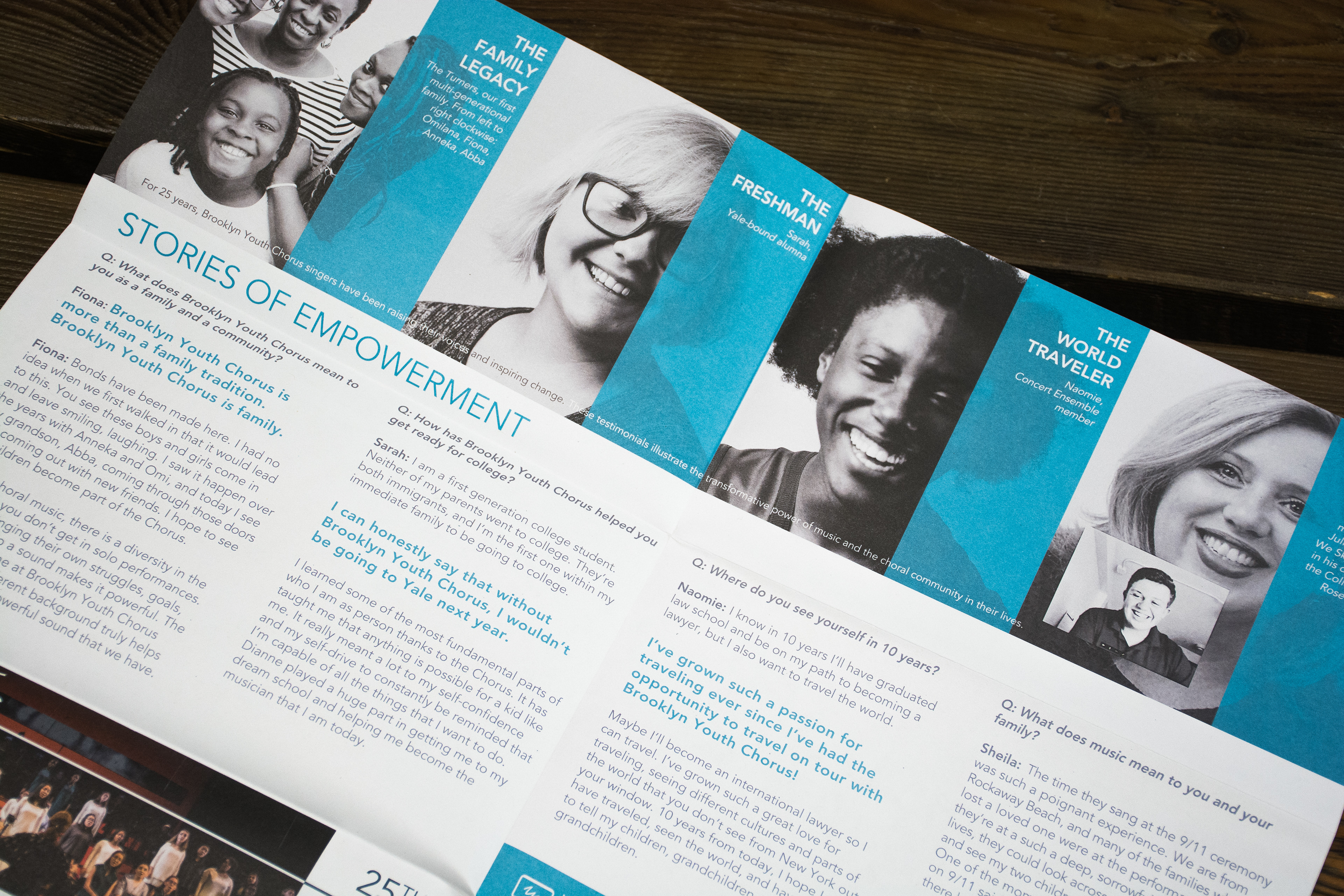 Stories published in a newsletter I designed for Brooklyn Youth Chorus's 25th Anniversary season.


Interviews conducted and edited by Marie-Laure Kugel. Photographs by Jay Maisel and Andrea Arevalo. Newsletter layout by Andrea Arevalo.
For 25 years, Brooklyn Youth Chorus singers have been raising their voices and inspiring change. These testimonials illustrate the transformative power of music and the choral community in their lives. 
THE FAMILY LEGACY

Q: What does Brooklyn Youth Chorus mean to you as a family and a community?
Fiona: "Brooklyn Youth Chorus is more than a family tradition. Brooklyn Youth Chorus is family. 
Fiona: Bonds have been made here. I had no idea when we first walked in that it would lead to this. You see these boys and girls come in and leave smiling, laughing. I saw it happen over the years with Anneka and Omi, and today I see my grandson, Abba, coming through those doors and coming out with new friends. I hope to see his children become part of the Chorus."
Omi: "In choral music, there is a diversity in the sound that you don't get in solo performances. Everyone bringing their own struggles, goals, and beliefs into a sound makes it powerful. The fact that everyone at Brooklyn Youth Chorus comes from a different background truly helps contribute to the powerful sound that we have."
THE FRESHMAN

Q: How has Brooklyn Youth Chorus helped you get ready for college?
Sarah: "I am a first generation college student. Neither of my parents went to college. They're both immigrants, and I'm the first one within my immediate family to be going to college.
I can honestly say that without Brooklyn Youth Chorus, I wouldn't be going to Yale next year.
I learned some of the most fundamental parts of who I am as person thanks to the Chorus. It has taught me that anything is possible for a kid like me. It really meant a lot to my self-confidence and my self-drive to constantly be reminded that I'm capable of all the things that I want to do. Dianne played a huge part in getting me to my dream school and helping me become the musician that I am today."
THE WORLD TRAVELER
Q: Where do you see yourself in 10 years?
Naomie: "I know in 10 years I'll have graduated law school and be on my path to becoming a lawyer, but I also want to travel the world. 
I've grown such a passion for traveling ever since I've had the opportunity to travel on tour with Brooklyn Youth Chorus!
Maybe I'll become an international lawyer so I can travel. I've grown such a great love for traveling, seeing different cultures and parts of the world that you don't see from New York out your window. 10 years from today, I hope I will have traveled, seen the world, and have stories to tell my children, grandchildren, and great grandchildren."
THE HEALING POWER

Q: What does music mean to you and your family?
Sheila: "The time they sang at the 9/11 ceremony was such a poignant experience. We are from Rockaway Beach, and many of the families who lost a loved one were at the performance. As they're at a such a deep, sorrowful time in their lives, they could look across and hear the Chorus and see my two children from their community. One of the moms of a firefighter who was killed on 9/11 said to me, 'to see your two children there brought me such a sense of peace and joy.' Both Julia and Michael now understand the power of healing for themselves but also for others."
Michael: "My personal essay was about finding my voice and singing in the Chorus. I told them about the work we do and the fact that we're not just any chorus. We do important work, we give voice to people who are silenced. I don't know where I would be if it wasn't for Brooklyn Youth Chorus."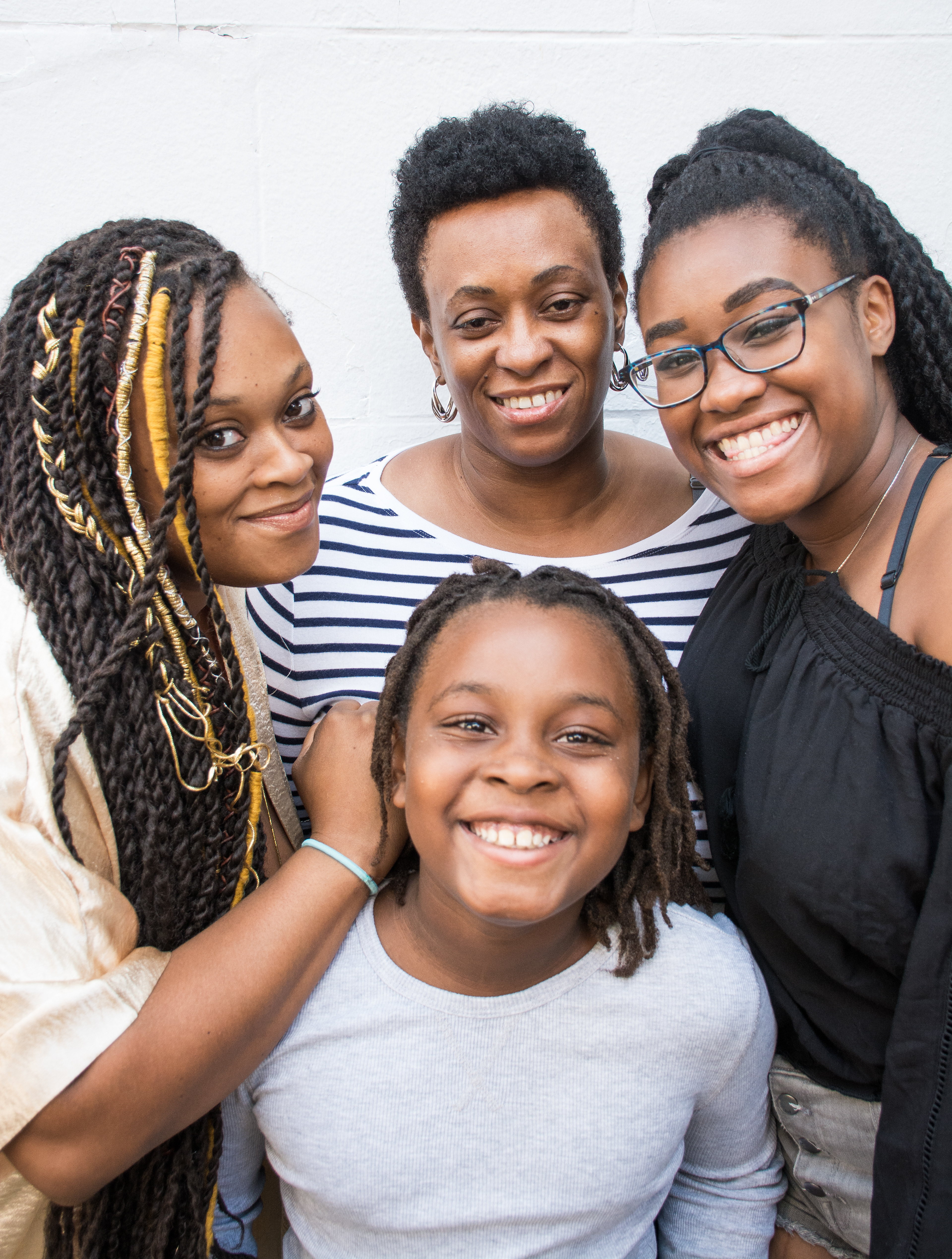 Portrait featured in the print newsletter of the Turner family, Brooklyn Youth Chorus's first multi-generational family.